Politically, this is getting serious. This is a slightly out of date graph of the 7-day average of deaths per day for England and Scotland. I just checked Scotland's current figure and it's 0.26. England's is over 2 on that (logarithmic) graph and doesn't seem to be coming down. So the death rate in England is currently
eight times
that in Scotland. Notwithstanding the fact that as recently as a month ago there was no difference. (Sorry about the image size but it's a twitter link and I can't change it.)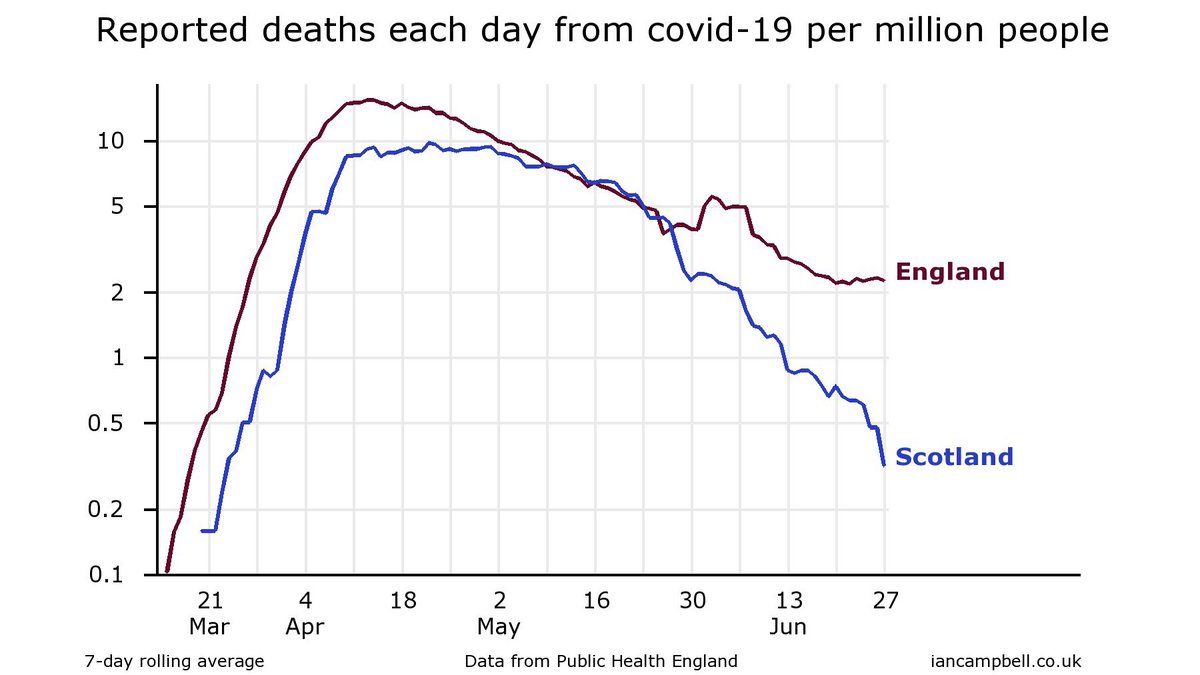 It is no coincidence that the date Sturgeon decided to dump her catastrophic "lockstep" strategy whereby she committed to do exactly what England did regardless of the situation on the ground in Scotland was in early May. It takes at least three weeks for the effect of changes of strategy to work through and show up in the stats, so it all fits rather well.
Nevertheless she and Scots in general are getting flak for daring to be different, even for wanting to be different. People on twitter are saying, I wish you'd fall into line, I want us to go through this as a single country. Why, for God's sake? Commentators are criticising Sturgeon for "lagging behind England" in opening up, and she's accused of "playing catch-up" with England. (Not in mortality statistics I hope!)
In virtually every other country on the planet bigger than a tennis court, regions and states and counties and territories and Lander and departments and cantons and whatever are allowed and encouraged to deal with their local situation in the way that addresses that situation best. Not only that, central governments are in general anxious to put in measures to protect regions which have escaped the worst effects of the virus or have reduced it to very low levels. We weren't even allowed to stop tourists getting on the ferries to our vulnerable islands at the beginning of this. Britain is the only country I can see which is uniformly the same bad colour all over in the death statistics maps. Everywhere else managed to spare some part of its territory. But here "we're all in it together" to the point where some in England are outraged at the very suggestion of travel restrictions to prevent virus being seeded all over rural Scotland again.
If Westminster actually saw Scotland as a valued partner in the union it would have readily agreed to a divergent strategy and to travel restrictions. Indeed if it had had any sense (hah!) it would have implemented travel restrictions within England too and indeed may about to be forced into that anyway. But such is the terror of Scotland ever doing anything differently and particularly of the border meaning anything but a couple of back-to-back welcome signs, they're doing precisely the wrong things.
In times of instability things sometimes reach a tipping point and events happen much faster than most people would have believed possible. Remember 1989-90. If we're in a situation where preserving Scotland's virus-elimination status requires a border closure and we're being dragged into a destructive Brexit in the middle of a winter of stress and fear and England is in the middle of a second wave, we could be in for interesting times.